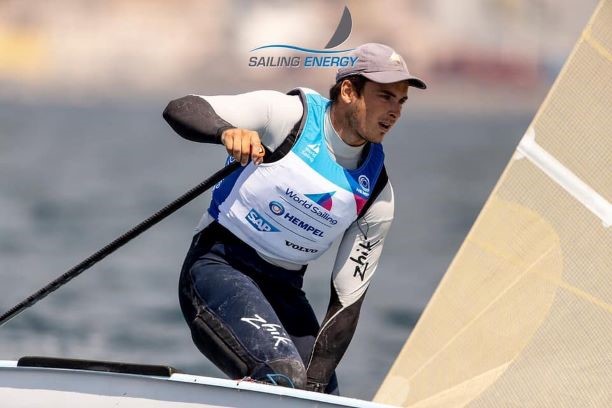 Lachy Gilham reports on his Finn campaign
Europe Summer Season 2019
By Lachy Gilham
This year's adventure was one to remember. having changed my Regatta plan on the fly; Originally I was only competing in 3 or 4 events in the Finn Class (Palma, Genoa World Cup, Finn Europeans and The Finn Silver Cup), that plan had changed to be 6 events (the above mentioned plus Kiel Week and Marseille World Cup final. I was looking forward to the challenges, and some great racing as a lot of these regattas were sort after Olympic Spots, for the Olympics to be held in Tokyo in 2020.
50th Trofeo Princesa Sofia Regatta – Mallorca, Spain
29th March to 6th April 2019
Palma, as most of the Sailing community calls it, was a huge roller coaster ride, I certainly landed in Spain and came in prepared for this event after working hard on and off the water in Perth. But leading into the event in Palma, I had a freak accident cycling down a mountain, and as this being the first regatta of the season, my accident somewhat hindered my training leading in, and I had not only physical injuries, I suffered with a bout of concussion, so that made my preparation and mental fitness somewhat scattered, as I was unsure if I would be ready in time. Thankfully with the help of teammates and my Father I recovered and was ready for racing. The goal for the week of racing was to understand and improve my second upwind legs with a tactical focus on playing the fleet.
The week consisted of mostly light Seabreeze's and two strong gradient days. I found that I was lacking in my light wind sailing but as soon as we got hiking, I was in the front pack until the first downwind, again I was lacking in speed in this area. But I learnt a lot about where I am and where I need to be. I Finished in 60th/86 overall and 10th in Silver Fleet. It was time to pack up, and travel to Genoa, Italy by road and ferries, and a little time off before the next event.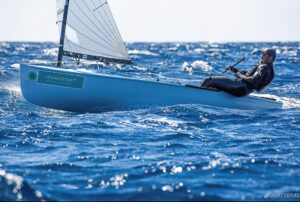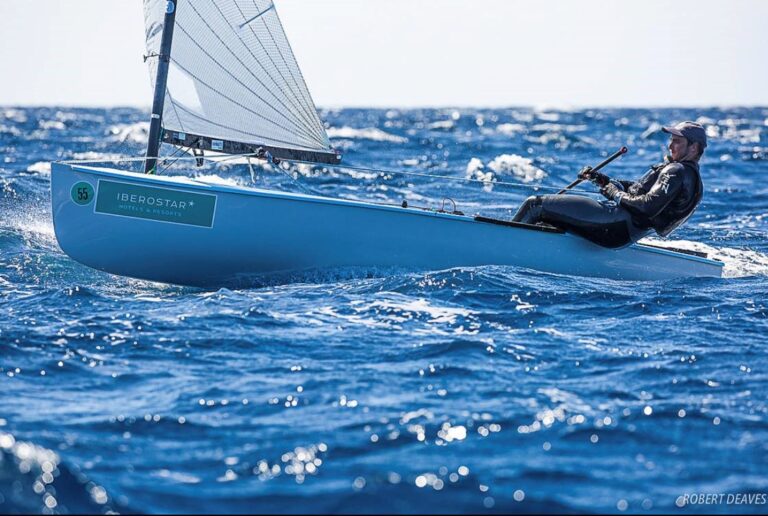 Hempel World Cup Series, Genoa, Italy
14th April to 21st April 2019
The third round of the Series was held in the Sailing City of Genoa. This city is very historic to sailing having previous regattas sailing out of its harbour back in the early 1900's, and where one of two most important sails of a sailboat was developed and called the Genoa headsail. This regatta consisted of lots challenging conditions and was becoming a light wind regatta. My goal was to qualify for the Medal race, but I fell short, but most importantly I improved my light air sailing and boat speed.
Overall, I raced well having great results but as the regatta progressed the race committee got more and more desperate for racing, having raced us in 30-40 degree wind shifts and 0-4 knots of wind, if you didn't get it right it was a bitter pill to swallow. unfortunately, I placed 15th /20. Again, it was time for pack up and we moved on to Greece in preparation for the Finn Europeans.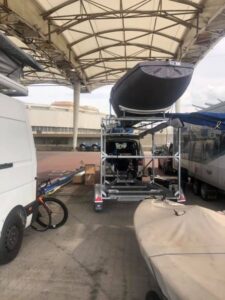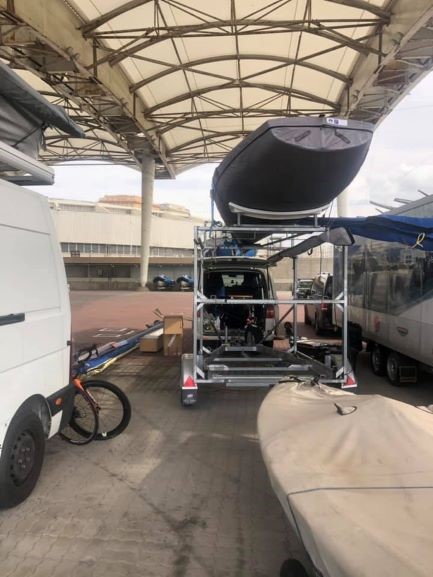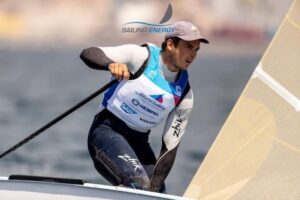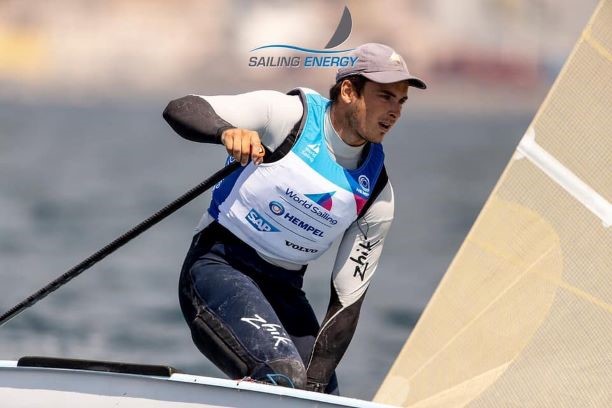 Finn European Championships, Athens, Greece
10th May to 18th May 2019
The Europeans was the most important regatta of the year having 4 country places available for the Olympic Games. The stress was high for everyone to perform at their best or to qualify, especially for Australia, as we were yet to qualify. This regatta was a ticket for me to qualify for the Australian Sailing Squad, so there was a lot up for grabs here in Athens.
After some time off to sightsee and work hard on fitness in the gym, it was time to race. The week consisted of mostly light to medium onshore winds which favoured me having lost a lot of weight due hitting weight targets for Genoa, I weighed in at 94kgs which was perfect. I had great boat speed upwind, but patience was the key to success. The races were 1 hour and 30 minutes long, so getting onto the correct shift, then waiting for the next wind shift was a mental and physical challenge, typically we are holding on a tack for 10-15 minutes. My strengths for the week were; starting, initial upwind beats, this made getting off the line a powerful move for me as I was arriving to the top mark in the 30's which is a huge win in my books. As the week progressed fatigue started to set in the fleet and that's where I could hold onto my position on the runs. Typically, in a Finn regatta we hold a race for the sailors ranked from 11th to 90th to race, this year that one race was a fight for two country places and there were 15 countries who could take those two places. I also had the chance to make top 40 but after a horrific start and taking 80 transoms that chance was gone, Overall, I placed 57th which I was still happy with considering this my first Finn Europeans. I was originally going to fly home, but I managed to get a late callup to the World Cup Series Final in Marseille, so on to France we go.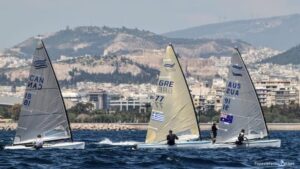 World Cup Series Final, Marseille, France
2nd June to 9th June 2019
The Final Instalment of the World Sailing World Cup Series was held on 2024 Olympic waters. My teammate and I arrived 2 weeks prior to the regatta, so we can get an idea of what the Olympic sailing venue will be like in 5 years' time. Those 2 weeks were spent in the gym and on the water testing; sails and conditions. One week out from the event our third teammate arrived from Sweden and our other competitors who are all Olympians, World Champions and Americas Cup Sailors, arrived, the competition was hot. The aim of this week was to stay in the bunch and learn the venue for the future, I progressively got better and better beating some of the legends across the line to finish top 5 and top 6 in the last 5 races. So, I went above and beyond what my goal was for this regatta.
Now that I had some great results, I had a chance to make the medal race, with one more race to complete. I executed the race as well as I could, but 2 x Olympian and London bronze medallist caught me by three-quarters of a boat length of the line for me to place 7th and loose on countback to the Argentinian. So somewhat disappointed, I took away from this regatta that I am I can post some great results and I can tussle with the World's best. Overall, I placed 11th.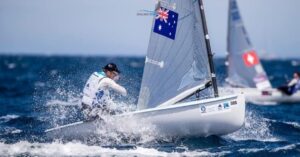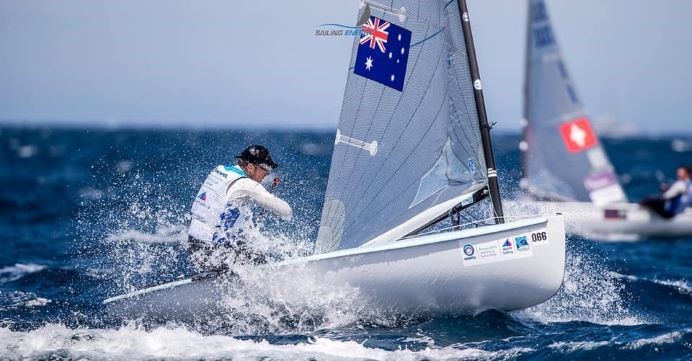 Kieler Woche 2019, Kiel, Germany
22nd June to 30th June 2019
After a lengthy drive from Marseille, I landed in Kiel for Kiel Week. I spent 3 weeks building on my weaknesses with my coach, Rafa Trujillo, and worked hard in the gym leading into the regatta. The week consisted mostly of tricky winds but also fair racing; the sailor who had the clearest mind made significant gains on the leader board. My Goal for the week was consistency and positioning. As the week progressed my racing improved exponentially, placing in the top 5 in 6 of the 10 scheduled races. We had 7 potential Olympians who were fighting for their country places for Tokyo plus 2 Olympians from Rio, it's safe to say that I can beat them in races! With the outstanding performance from qualifying, I qualified for the medal race with tight points gap. This opened up a new aspect to my sailing performance, I needed to focus on positioning and tactics, speed did not matter so much.
My nerves coming into the race where like going onto a stage to public speak, it was a strange feeling. But I kept my composure to execute a well thought out race plan to be leading the race until the final metres of the final downwind with making a critical error in my positioning, I finished 4th and 6th overall. Again, it was time to pack up and drive the rig back to Italy, for the U23 World Championships.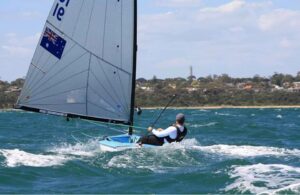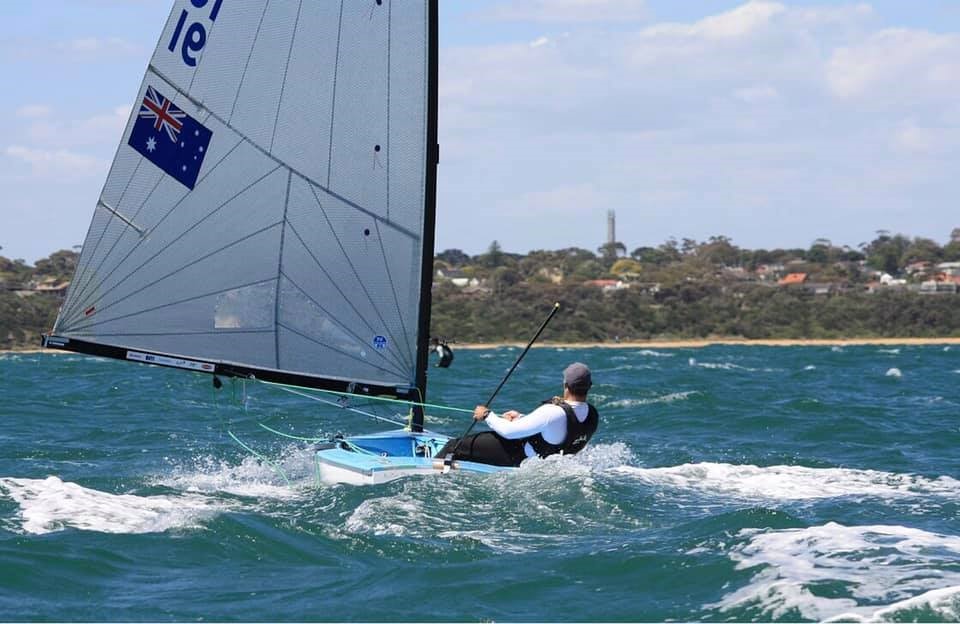 Finn Silver Cup, Anzio, Italy
14th July to 20th July 2019
The final addition to my trip, the most anticipated regatta of my lengthy campaign in Europe. This regatta, if I perform well, was going to open a few doors in relation to the Australian Sailing Finn Team, so the stakes were high for me. I started the regatta really strong but after UFD and black flag it put me on the back foot coming into the last 3 days of the regatta. Light winds and random shift patterns, the times I got it right was empowering but the times I missed the shift and it was brutal, so you needed to follow your strategy and hope that you can gain back.
It was very had to comeback after the UFD and BFD, so It was disappointing week of racing for me knowing that I haven't improved from my last Junior Worlds but I have learnt a lot and know that I have improved in each race but not on the leader board. I finished 15th
It was also a hard regatta as most of the U23's guys if they hadn't qualified their countries for Olympics in Tokyo 2020, that this was going to be their last Finn Regatta, as the Finn is being dropped from the 2024 Olympics.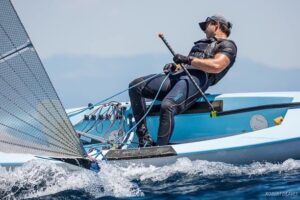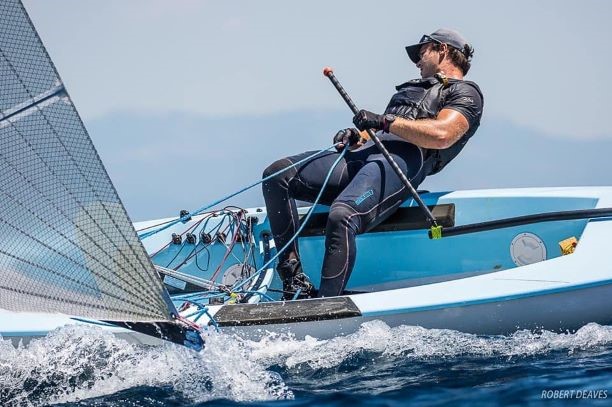 Time to head home to reconnect with Family and Friends, have a little time off, then back into training for the summer season over East, and for the Finn Gold Cup (Open World Championships), which is being held in Melbourne in December.
A big thank you to South of Perth Yacht Club, Fremantle Sailing Club, The Ron Tough Yachting Foundation, for your support over this time, thank you to my coaches, and especially Rafa Trujillo Australian Sailing Team Finn Coach, and my Finn teammates from Australia and around the World.
An even bigger thank you to my Mum, Dad, My Grandparents David & Margaret Gilham and Eric and Lorraine Otway, my girlfriend Katie, extended family, and friends who helped me when times got a little tough.
See you on the water, Cheers Lachy