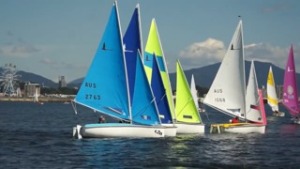 Genevieve Wickham, Silver at Para Worlds
I wish to extend my sincere thanks to the Trustees of the Ron Tough Foundation for the financial support that I was granted in May 2018. This has assisted me in continuing to develop my sailing skills while participating locally nationally and internationally.
For me it has been another very exciting, active, diverse and challenging year. Locally, I sail regularly out of RPYC on Sunday racing with the Dinghy Club. My Support Person JT, assists with all aspects of my boat preparation, on water support and launching and retrieving my Hansa Liberty. We debrief each Monday followed by a theory session. I continue to work with the Curtin University Speech Therapy through their Speech Clinic during the semester to further develop my communication skills. I am continuing to gain a knowledge basis and learned language that is greatly enhancing my sailing activities.

During most weeks I have also been training in the Hansa 303 which has been made available by Sailability WA. This Class is the selected boat for the Para World Women's completion. The 303 is not very friendly for a one armed sailor especially in heavier conditions so I am always looking at ways to improve this. Recently I had a bilge pump approved by the class association which will assist me on those challenging days. Hansa 303 training continued weekly during the winter months in preparation for the Para Worlds in the USA 2018.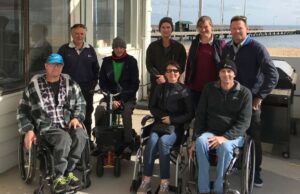 Mid-year 2018 I was selected in the Australian Para Sailing Squad of seven sailors and was one of two females to represent Australia at the Para World Sailing in Sheboygan USA in September 2018. I attended a training camp with my support person JT at RBYC Melbourne late July. It was a little daunting at first but I soon realised that it was an amazing opportunity and being included was very rewarding and I learnt lots about racing technique, competition preparation and generally competing at this level. .
In September 2018, I and JT packed for Sheboygan WC USA where we joined the Australian Para Sailing Team to participate in the World Sailing Championships for 2018. I was well prepared and looking forward to competing against some very experienced women sailors. The conditions varied from fickle breeze of 3-5 knots to strong winds of up to 35 knots. The competition was tight and I was delighted to finish in fourth place after nine races and qualify for the Medal Race. This was a first for me so I was very satisfied. I am delighted to share with you that I finished second and claimed the Silver Medal. Yes, I am still smiling
.
.The Ron Tough Yachting Foundation has been supporting me for many years now and over the years I have been able to report positive outcomes, while encouraging and facilitating other para sailors to pursue this sport. My focus is to continue in this pattern. I am in training for the Para World Sailing Championships 2019 which are being sailed in Puerto Sherry Spain July 2019.
The ongoing encouragement and financial support that I have received from the Ron Tough Foundation is very much appreciated.
Best regards,
Genevieve Wickham.