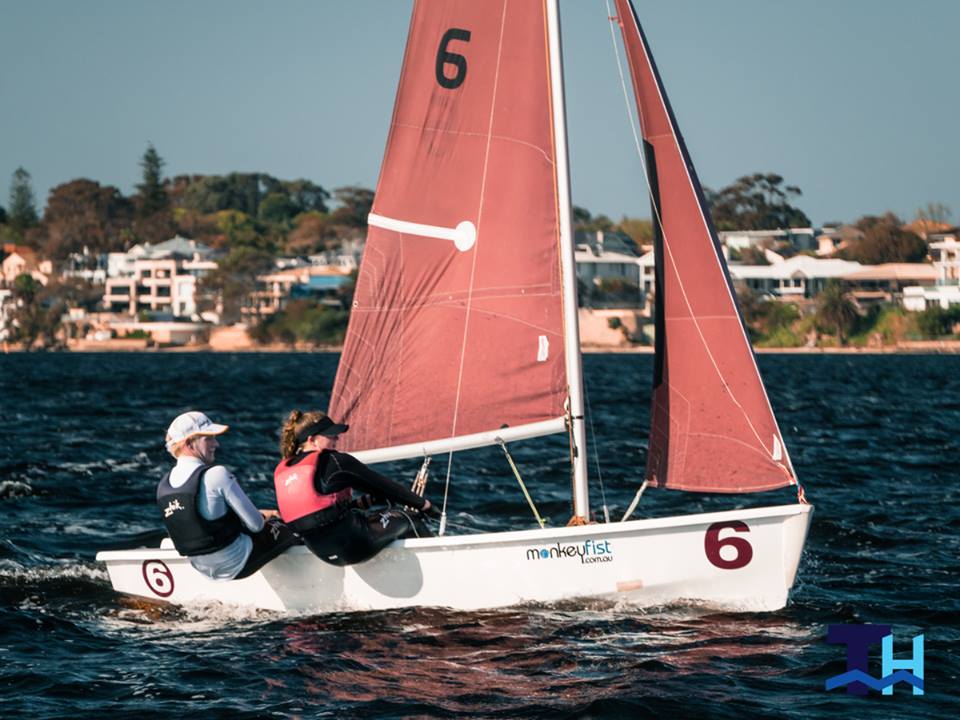 Chris Charlwood tells the rough ride of an Olympic campaign
Over the past few months I have found it a challenge to write a report of my 2019 season for the Ron Tough website. It has been difficult to find the words that can show gratitude towards the tremendous support I was given, whilst giving an accurate depiction of our results and account of events. I cannot express sincerely enough how much it meant having the support of Ron Tough and many local West Australians throughout a difficult year. Thank you for the many years of assistance in the past and I look forward to being able to represent you all into the future.
Last year I was presented the scholarship for 2019 from the Ron Tough board. The financial support given to our team would provide essential assistance in our pursuit to outperform the best ever 470 team whom are past Gold and Silver medallists in order to gain admission to the event we dream of.
2019 was the selection year for the men's 470 at the 2020 Tokyo Olympic Games. The selection would be based on a points system from four events; Trofeo Princessa Sofia -Palma, Genoa WC, Europeans and the World Championships.
After an extremely strong opening two years for Josh and I placing 20th at our first Worlds then 15th at our second -an unprecedented opening performance, we looked on track and in for an outside chance at dethroning the best of the best and qualifying for the Olympic Games. Unfortunately, the trajectory of our team put tensions on our relationship with our training partners Mat and Will and they made the decision to remove us from their program and only train with the Japanese. A decision that would ultimately prove successful to them by the end of the year. A true insight into how much training alongside them and underneath Victor Kovalenko was a massive benefit to our performance in the previous seasons.
It was decided by Australian Sailing that Josh and I would become honouree members of the 470 Women's squad. Due to the lack of consistent coaching given towards this group of aspiring girls most of the teams retired at the end of 2018 leaving local favourites Nia and Monique looking for a training partner and we were brought in to fill the vacancy. We were told that although we could technically qualify for the games, our primary mission was to be the key training partners, share information, coach and mentor Nia and Monique, to push them towards a level that they can qualify for an Olympic spot and a place in the Australian Sailing Team.
This is where the Ron Toughs generosity and support became extremely helpful. Because the team decided we were to only help the women we were funded nationally at a lower level then we had qualified for with our 2018 results. The financial help given to by the board allowed us to still pursue our own goals of going to 2020 with this private funding, whilst also being able to fulfil our purpose within the wider team in helping Nia and Monique.
We are both extremely proud of the work that we did within the team last year with the girls. Of course, a lot of their improvements came from reconnecting with past coach Ruslana Taran and long-term work from the brilliant Belinda Stowell Brett, but we truly believe that our approach and the information we provided changed the way Nia and Monique tune and sail the boat dramatically. They deserve so much credit for their openness to change many philosophies and techniques and for the amount of effort they put in to the 2019 season with us. As a squad we showed what teamwork can look like and the whole group gains satisfaction from their amazing results.
As far as our season and our own qualifications goes it's safe to say it was challenging. Our training environment whilst in Australia was still strong due to the group we had and the coaching from Belinda at home.
This showed at our first even of the season which was the Trofeo Princessa Sofia event in Palma. Although we did not have any coaching or support at the event itself, our preparation and time on the water showed through in the first days of racing. Multiple top 10 races and a few in the top 5 proved that we still had the pace in the boat. Unfortunately, on the last windy day we had some gear failure that cost us two races and we would finish back in 17th in the 75 strong fleet. This was extremely disappointing at the time, but little did we know this would be the top for our team.
The lack of coaching and team environment proved costly the longer we stayed in Europe. A very tricky following regatta in Genoa which only saw six races in six days without a race over 8 knots was the turning point for our team. In hindsight this regatta was a poor result for many top teams including Mat and Will. Perhaps with more experience and guidance through this time we could have maintained a positive mindset and made a strong turnaround for the next event, the Europeans. However, this was not the case.
As a team extremely strong winds had always been a weak area due to team weight and experience. Most of our training with the girls had been in light winds as that's where we saw the most benefit. Our European championships would be a complete reversal of conditions to what we had only an hour up the road in Genoa. We would have another limited race series but this time due to extreme winds throughout the week. Still without any coaching or support it was hard for us to learn from our mistakes or learn what the top teams were doing differently. Our lightest race being in 18 knots and even having to compete in 35 in order to get race in. A troublesome week for us being slow upwind in the breeze meant this event would see us right down the back of gold fleet with broken spirits. We knew it was now virtually impossible to qualify for the Olympics as Mat and Will had taken out the event in almost a win in every race.
It was time to come home and review our options for the rest of the season. It was now clear that our work with Nia and Monique was effective and we owed it to them to continue our push to the World Championships. With an outside chance of a top performance and some more work with the girls we went to Japan to prove to ourselves we still had some fight left in us.
However, whether it was the pressure we placed ourselves under, the continued lack of coaching during events or a genuine lack of speed this would become the worst event our team ever achieved. Unfortunately, we placed inside Silver fleet after a poor qualifying series. Our first and only silver fleet finish together. A bitter disappointment to us as we feel like even with controlling all our controllables we still let ourselves, our supporters and our financial backers such as the Ron Tough foundation down.
This would be the last event Josh and I would compete in together. Our poor result would not be enough to attain any support from the federation for 2020 even to continue our work with the girls.
Josh retired from Olympic sailing the week after the World Championships to pursue other university aspirations, work on employment and family life.
As a team I believe we showed strength in the face of adversity and personally I am very proud of our results over the past three years. We are very excited about Nia and Monique's progress and can't wait to see them at the games in 2020.
Whilst I still feel as though our disappointing year let down our supporters and the Ron Tough foundation, I am confident that I have learned many lessons from this period and will become a better athlete for it. As one of my long-time coaches Arthur Brett says, "Good judgment comes from experience and experience comes from bad judgment".
After a brief period away from the 470 at the end of 2019 I am now excited to announce my new somewhat different journey in the 470 class. As our boat is going into a mixed crew category for the Paris 2024 Games, I have made the transition early into the class. Along with new teammate Amelia Catt from Tasmania and with coaching support from Belinda Stowell we are campaigning strongly. Starting with the 2020 Mixed World Championships. We hope that a combination of separate long-term experience in the 470 class and good teamwork can catapult us into the top of the fleet and we can be a force to reckon with over the next four years.